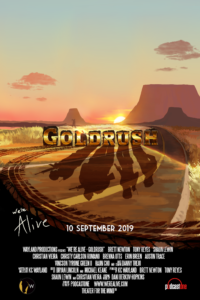 The "Theater for the Mind" hit audio series We're Alive launches a new, 10-episode season entitled "Goldrush" on Tuesday September 10th, 2019 online, with a live event release of the season premiere on September 7th 2019 at the Assistance League Theater in Los Angeles. Debuting its 6th season, We're Alive began back in 2009 and has been downloaded over 160 million times worldwide.
Written, directed and produced by Kc Wayland, Goldrush dives back into the series with an adventure that spans the time of the series. Four soldiers (Puck, Muldoon, Robbins, and Carl) stumble across clues to a hidden gold heist stash. Since gold retains value even after the apocalypse, they plot to track down the prize for themselves. The "goldrush" is a fever of greed, that could ultimately consume and destroy them. The values of camaraderie and companionship are tested as they embark on a secret adventure to become ultra-rich in this spaghetti-western tale of humor, horror and heartbreak.
Goldrush is a multi-layered story that fully utilizes the audio drama medium, employing a multitude of audio-focused comedic gags, plot devices that force visualization and scenes that take advantage of the soundscape.
Wayland Productions has partnered with Podcast One to release the series, starring Anthony Reyes, Shaun Lewin, Brett Newton, Christian Vieira, Brenna Otts, Erin Breen, Christy Carlson Romano (Kim Possible, Even Stevens), and guest starring Danny Trejo.
We're Alive: Goldrush, will be offered free of charge with limited ads on Apple Podcasts, Spotify, Stitcher or wherever RSS podcasts are available. The live event premiere for Goldrush is September 7th with full ticket information on our website: www.werealive.com.
Goldrush will follow the following release schedule:
7 September 2019 – Live Premiere of Chapter 1
Online:
10 September 2019 – 7 AM PST Chapter 1
17 September 2019 – 7 AM PST Chapter 2
18 September 2019 – 7 AM PST Chapter 3
24 September 2019 – 7 AM PST Chapter 4
1 Oct 2019 – 7 AM PST Chapter 5
8 Oct 2019 – 7 AM PST Chapter 6
15 Oct 2019 – 7 AM PST Chapter 7
22 Oct 2019 – 7 AM PST Chapter 8
29 Oct 2019 – 7 AM PST Chapter 9
30 Oct 2019 – 7 AM PST Behind the Mic – Audio Documentary
5 Nov 2019 – 7 AM PST Chapter 10